No time and no will to travel?

Already attended Scrum certifications and other wide-angle classes?

Wish to

 get a deep dive into specific areas of your work

?

Need more tools and techniques for agile coaching and agile product development?

Wish to deepen your skills as a ScrumMaster?
Gather a corporate group (8-16 people) and order the Hangout Workshops.
These workshops are taught in English and Russian.
---
Series: ESSENTIAL SCRUMMASTER SKILLS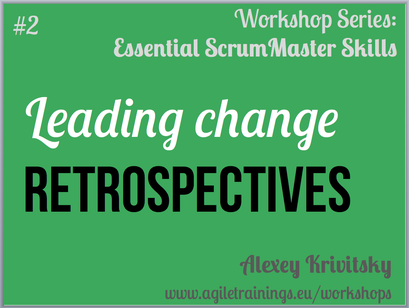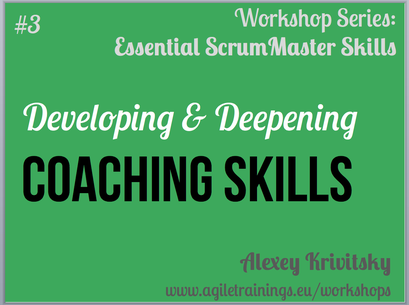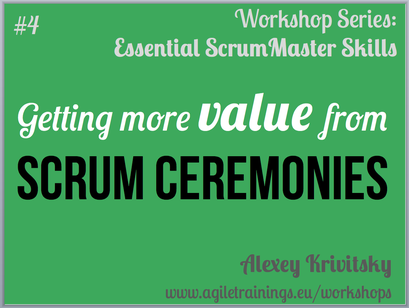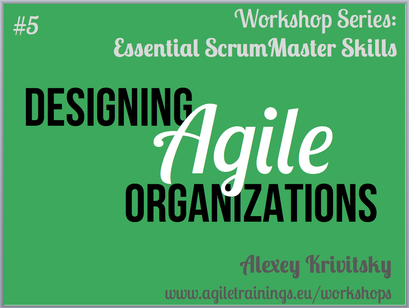 ---
Our company ordered series of workshops from Alexey Krivitsky. We did Scrum for 1 year and still had a lot of questions and misunderstandings. In the beginning I was sceptical about remote studying, but since I knew Alexey from our trainings in the past we decided to give it a try.  In the end it was a very positive experience and during those workshops our internal Scrum Master community got formed.
Andrey, ScrumMaster Team Lead
The workshops are designed in a very practical way with many exercises and interactive activities. I think we never discussed so many of our problems. After the workshops we received the materials and we able to run the same games with our teams and new-hired ScrumMasters. 
Jan, ScrumMaster
During the Hangout Workshops we have started to master some very essential skills that we didn't know had existed...
Tomas, Agile Project Manager
A year after the Workshops we still have a slack-channel with Alexej where we keep discussing our new challenges.
Jens, Head of Engineering
---
You

and

 your 6

-18

 colleagues are in a co-located space (or several locations).

Good internet connection and a beamer plugged to a laptop.

Print-outs

available

 at each location (several pages per person).

A volunteer-

helper

 at each site 

to

 

facilitate the setting.

 
All of the workshops are made highly practical and include numerous individual, pair and group exercises to let the participants acquire the taught skills by practicing.
---
#1: The Art of Facilitation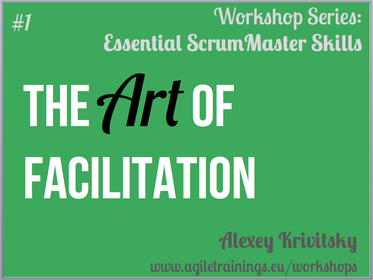 The goal of this workshop is to teach necessary core tools and skills that meeting facilitators could apply on daily basis on small to large meetings in order to make them more engaged, productive and in the end feel less like meetings.
We'll cover the following key aspects:
1. Engagement: how to raise and keep engagement of participants high.
2. Facilitator's stances: applying proven techniques of great facilitators.
3. Work session design: templates for planning and running goal-oriented meetings.
4. Bonus topic: facilitating distributed and large meetings.
5. Q&A
---
#2: Leading Change Retrospectives.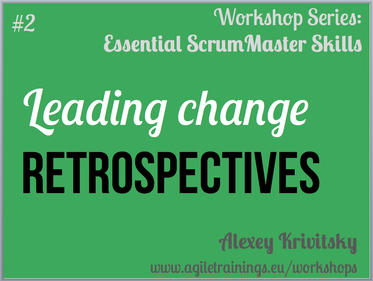 The goal of the workshop is to provide a rich variety of practices and templates that facilitators and ScrumMaster can use to turn their retrospectives into places of great team growth and high responsible behaviour.
We'll discuss in details the following key themes:
1. Frameworks and templates for designing great retrospectives.
2. Common pitfalls, facilitator's gotchas and ways to avoid them.
3. Retrospective examples: a dozen of ready-made templates for running your retros.
4. Running release- and project-scope retrospectives.
5. Bonus topic: facilitating remote and distributed retrospectives.
---
#3: Developing and Deepening Coaching Skills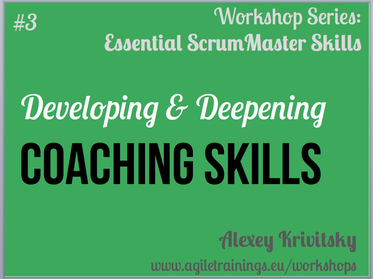 The goals of this particular workshop is to introduce the audience (ScrumMasters, team leads, managers, team members) to communication in coaching style. The workshop is skill-oriented and the participants will be trained to run formal 1:1 coaching sessions, as well as using the coaching toolset in daily conversations.
Mentoring vs. teaching vs. coaching
Active listening skills
Coaching frameworks
Practicing essential coaching skills
Integrating coaching in "normal" working conversations
---
#4: Getting More Value from Scrum Ceremonies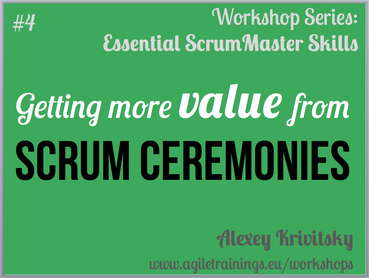 The goals of this workshop is to help improve and correct existing Scrum ceremonies. Participants will learn they key anti-patterns and will work to adjust and re-plan the way Scrum meetings are currently run in the company. A very practical and hans-on workshop. It will also touch on the topic of facilitating distributed Scrum meetings and optimal ways of running them.
Sprint Planning: preparation and facilitation
Backlog Refinement: process and recommended meetings
Sprint Review: hows and how-nots
Sprint Retrospective: we also have a dedicated module on this topic
Distributed meetings and customer involvement.
---
#5: Designing Agile Organizations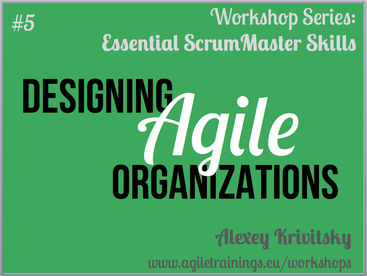 The learning objectives of this workshop is to re-think the way organizations function. Participants will learn the basics of system thinking necessary to understand some of key dynamics happening in matrics and department-based organizations. They will spend time reflecting on their existing structure and dynamics to identify improvement areas.
System thinking and local optimizations
Natural growth of organizations and its challenges
Principles of lean & agile organizational design
Evolution vs. revolution: how to change structures
Case-studies
---