This one is called Sprint Timeline helps individuals refresh their memories and build a collective story of the sprint.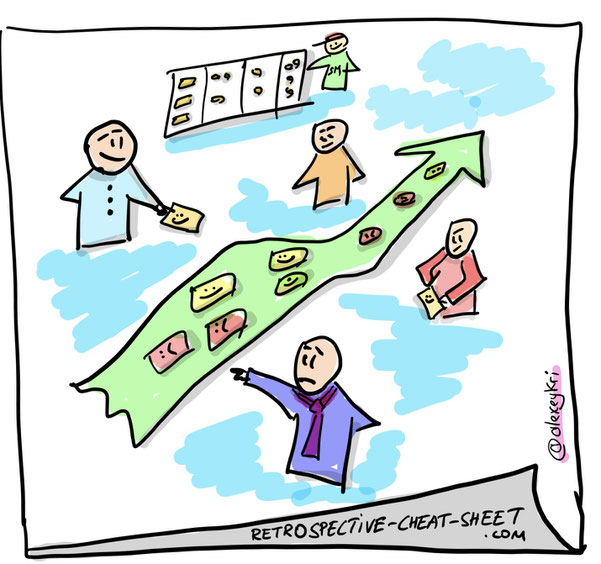 Most of us are bad at remembering what we did yesterday. And I'm not even speaking here about remembering what the others did. This exercise helps to recreate a group story of the last sprint.
Use a masking tape depicting a timeline. Couple of meters is a good size for a two-week sprint. 
Then ask everyone to write silently for few minutes on post-its: I ask to think of the events that happened within the sprint and are important to be remembered. Anything goes here: parties, sick leaves, releases, meetings, conflicts, surprises. One event per a post-it.
After writing is done, ask people to come up one by one and tell their stories by sticking their post-its chronologically. You may want to limit time per person. Say to 1 or 2 minutes.
Additionally, ask people to draw smileys on the post-its represent- ing the emotional state of the events.
That also works great for longer time-slices, like for instance quarterly releases. Actually, the longer the period being retrospected, the better this tool works. 
Once the collective memory is there it is so much easier to get a deeper dive into specifics of the previous sprint with activities like Sprint Perfection Game, Working Well - Needs Fixing or More-Less-Keep-Stop-Start.
See the the Retrospective Cheat Sheet for more details on these exercises.
Retrospective Kickstarter Plus A Cheat Sheet
"Sprint Timeline" is one of the 16 powerful exercises that I've been using most often facilitating different retrospectives: from a single team looking back one sprint to a multi-team group retrospecting a whole many-month release.
Combining these 16 exercises is giving you more than 250 different agendas (should be enough for the next few years!) - so go and get the Retrospective Cheat Sheet together with a mini-book Agile Retrospective Kickstarter that helps you get prepared for your next kicking-ass retrospective.
---