Below is one of the exercises I usually start a retrospective with. Why? Because it is very simple yet powerful. You have your participants joined the meeting, so physically they are present. But how mindful are they? It usually takes a while to "arrive" mentally to a meeting after your body takes a seat.
So this activity is designed to help participants start building a connection of how they feel about the last sprint. That's the main purpose of this activity. And it is a called a "one word" because you're asking for a quick association - ideally just one word by asking "which was the weather like for you in the sprint?"
A secondary and less obvious purpose of this activity is to give everyone a chance to speak. The earlier you do this on a meeting (any meeting not just a retrospective), the more engagement you can expect from your participants to be. Asking everyone to say one word at the very beginning of a meetings sends a very strong message to everyone: you are invited here to talk and share what's on your mind, you opinion is very important, active participation is what we are looking for here.
One Word Retrospective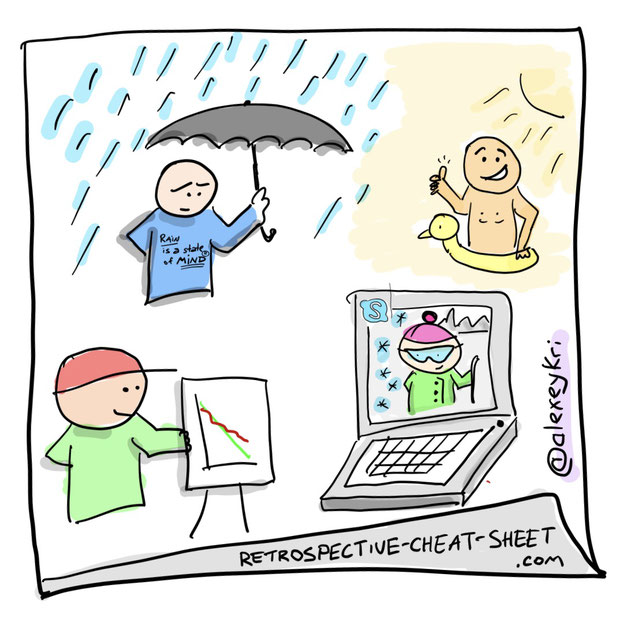 Goal: help people connect with the meeting topic; create a more relaxing atmosphere; open up sharing space that welcomes people talking.
The idea is simple: let everyone in a round-robin fashion share one word describing the last sprint.
People can pass if they want to (this applies to any retrospective activity we are inviting our participants to join). They always have a chance to pass - this creates safety.
My favourite example is to ask for the weather: what was the weather like for you in the last sprint?
Watch for different answers and see whether you can use those metaphors and discrepancies of different weather kinds during to pull for more story telling.
I remember once in a a team we were doing this exercise as a retro opening and one person who usually prefered to stay silent took his turn said that the last sprint for him was "partially cloudy with a high chance of meatballs falling from the sky".
This has definitely set the stage for that retro. And it was a good ice-breaker after all!
After the warm-up and an ice-breaker with the One Word Retrospective you can move on to re-creating a Sprint Timelime. Or if you feel there is something in the air that prevents the team from focusing on the future and the process improvement do a Check-In: Mad Sad Glad Afraid.
Alternatively consult with the Retrospective Cheat Sheet to see which other retrospective activities that might fit at this stage.
Variations To Check-In?
Yes! Experiment with what might work better for your team - don't get stuck with weather. Try cars, sports, countries, journeys, landscapes, operating systems, seasons, names of movies, musical bands...
Sometimes I bring photos for people to choose from. Below there are eight landscape pictures I've used in the past with good success:
download them (below)
print them (in colors, few copies each)
and invite participants to pick one that describes the last sprint the best.
I've also seen participants combining different pictures together in crazy ways. Whatever they do - it is fine.  So expect to be surprised. Defer any judgment and try to stay curious.
You may ask:
 - Please help us see how does the chosen landscape describe for you the last sprint?
 - Which aspect of the sprint felt in particular like that?
For distributed retrospectives I used to put all eight images on one slide to look at and choose from. This also worked fine. But of course physical artefacts are nicer. See what works best for your group. If you are not sure - ask them!
Eight landscapes
landscapes.pdf
Adobe Acrobat Document
32.2 MB
RETROSPECTIVE Book Plus a Cheat Sheet
"One Word Retrospective" is one of the 16 powerful exercises that I've been using most often facilitating different retrospectives: from a single team looking back one sprint to a multi-team group retrospecting a whole many-month release.
Combining these 16 exercises is giving you more than 250 different agendas (should be enough for the next few years!) - so go and get the Retrospective Cheat Sheet together with a mini-book Agile Retrospective Kickstarter that helps you get prepared for your next kicking-ass retrospective.
---