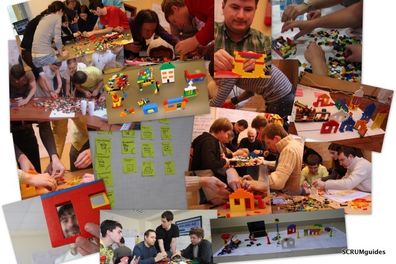 This Lego Scrum Simulation is getting so popular, that from time to time I receive requests to run it in-house.
It's really a great simulation which I had a chance to invent back in 2008. I've been teaching Scrum by using the simulation for more than 7 years now.
The game is suitable for groups starting already from 5 people. Depending on prior Scrum experience duration can vary from 2 to 4 hours.

Several times I was able to scale it up to over 100 people by applying Large Scale Scrum principles. So teaching both single-team and scaled Scrum is totally feasible with the game.
If you have in-house ScrumMasters / Agile Coaches, then can as well be your facilitators - just use the instructions that are translated to more than 15 languages.
These days I personally use a much more elaborated version of the simulation that includes collaborative project chartering, story mapping, quick multi-team estimates, visual multi-team Scrum board, single-team and overall retrospective, and so on.
Ask me questions if you're interested to go that far with it. It all nicely fits into the game flow.
Wish you all a playful Scrum!