Retrospective Cheat Sheet: Poster and Mini-book
AGILE RETROSPECTIVE CHEAT SHEET: BUILD OVER 250 UNIQUE AGENDAS FOR YOUR RETROSPECTIVES!
---
The Retrospective Cheat Sheet lets you create numerous unique agendas for your retrospectives.
The Cheat Sheet as well as the book is available in multiple languages.
The accompanying mini-book (see below) provides the details to the exercises based on the team mood, size, proximity. It is a handy kick-starter for people interested to start up or spice up their agile retrospectives.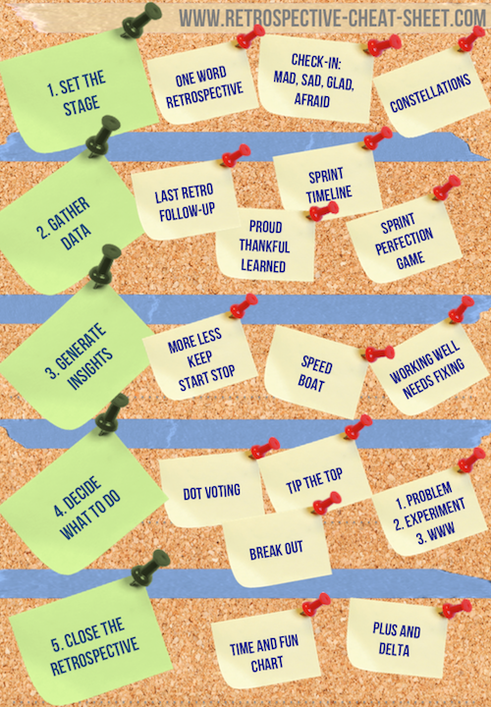 ---
DOWNLOAD THE HIGH QUALITY POSTER
In English, French, Polish and Russian
---
AGILE RETROSPECTIVE KICKSTARTER: DOWNLOAD THE MINI-BOOK
All of the exercises listed in the Cheat Sheet are explained in details in the accompanying mini-book.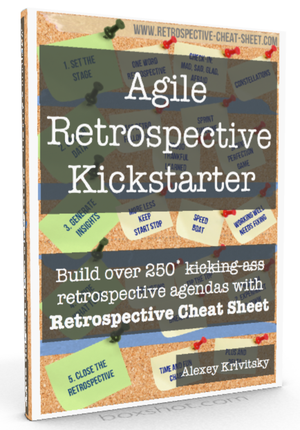 ---
THE BOOK IS ALSO AVAILABLE IN:
---
Yet another retrospective book? Why? There are already quite a few..
Yes! And that's exactly the reason. I teach workshops on retrospectives (among other topics) to ScrumMasters, team-level and enterprise Agile coaches. And my observation is that despite of all the ocean of information on this topic, there still seems to be a big gap between the wisdom that is in the books and what people actually do in office meeting rooms under a lit sign: "Don't enter. Retrospective on air".
This mini-book is made to be very practical. It provides details to the 16 exercises of the Retrospective Cheat Sheet allowing you to build a good number of retrospective agendas varying the exercises based on the team mood, size and setup.
The 50 pages of the book explain in greater details the following key themes:
Planning and designing retrospectives

Common retrospective pitfalls

Improving team's responsibility and accountability for the

 retrospectives outcomes

Shines the light on differences between running onsite

and distributed retrospectives
It will serve you as a good starting point to craft your retrospective agendas where fun and use are well balanced.
Download it now in English: leanpub.com/agile-retrospective-kickstarter/
---
---